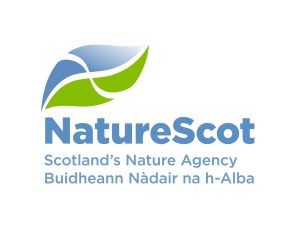 Flexible, accessible intranet gets full marks from heritage body
Scotland's nature agency NatureScot were looking for a SharePoint-based intranet solution as part of their long-term digital transformation strategy.
Having established a set of MVP (Minimal Viable Product) requirements, they were looking for an out-of-the-box solution that would allow them to make incremental improvements as business needs evolved.
Their vision for the project was to create a simple, smart, and seamless digital experience with access to all digital workplace tools and stories that would inspire a sense of belonging to NatureScot and its workforce.
As a public sector organisation, it was vital for NatureScot's intranet to meet accessibility legislation requirements.
Following a thorough in-house testing programme, the Involv team worked closely with NatureScot and Involv partner Core Azure to achieve this.
Background
NatureScot is Scotland's leading body responsible for the country's natural heritage.
Based in Inverness, the public sector body has 35 offices around Scotland, with 10 per cent of staff working in the country's nature reserves and the rest operating in a hybrid model based on staff preferences.
Whilst a long-term plan for M365 roll out over several years was developed and implemented, NatureScot spotted an opportunity to begin their digital transformation by deploying an open-source Drupal intranet. At the time, a revolutionary step for a public sector agency. The lessons learned provided valuable insights utilised during this project.
But with the rapid growth of Teams during the pandemic, this accelerated their M365 programme.
Challenges
In addition to looking for a SharePoint-based intranet, the organisation also wanted an out-of-the-box solution that could evolve with any changing business needs and could meet their MVP requirements.
They had identified five key outcomes for the project:
– Enhance information flow with content shared easily across MS Teams, intranet and Viva Engage (formerly Yammer)
– Create stronger connections to NatureScot's purpose and goals
– Facilitate more efficient ways of working
– Support a happy and safe workforce
– Meet accessibility legislation
Accessibility mode for an accessible intranet
Working alongside NatureScot's D.A.W.N. N (disability, ability, neuro diversity, network) the Involv team and partner Core Azure came up with the following solutions:
Solutions
NatureScot's public sector status means that the organisation's intranet must comply with accessibility legislation .
To achieve an accessible intranet, the Involv team created an Accessibility Mode to open up the Involv platform to third-party web-extension accessibility tools, such as screen readers or contrast palettes to help improve the UX for everyone.
The mode, which can be toggled on or off, allows users to navigate features and pages via their keyboard, highlighting relevant content as they move around.
This makes the features and pages easier to navigate and read for those with visual impairments. In addition, the on-focus mode allows hard of sight users to see where they are at any point.
Users can change the size of the webpage for easier reading at any time, regardless of whether they've switched accessibility mode on or not.
The Involv team also integrated SharePoint's 'breadcrumb' webpart, which presents hierarchical content in a linear structure thus making site navigation more accessible.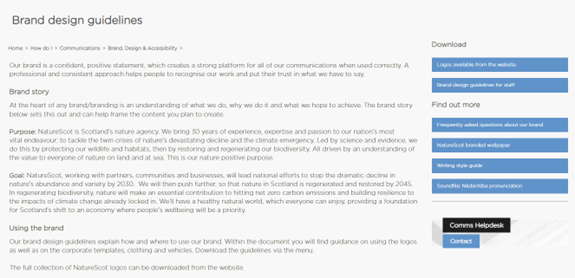 Image: SharePoint's breadcrumb webpart was introduced to make site navigation more accessible.
"We're here as a supportive employer to help make everyone's day-to-day easier. The intranet's accessibility tools are available irrespective of people's characteristics or workplace preferences."
Martin Stubbs-Partridge, Internal Communications Officer, NatureScot

See NatureScot's Accessibility Mode in action in this YouTube video:
M365 integration allows more flexible comms
Involv's seamless integration with Microsoft 365 has given NatureScot complete flexibility with their content and its intended audience.
Although they had experimented with forums on their previous intranet, the more 'social' content had jarred with the corporate, news-related pieces.
With Involv, NatureScot have been able to target their content to specific audiences e.g., information for everyone is published on the intranet, more personal, peer-to-peer content is published via Viva Engage, and work-related, task-based communication happens via Teams.
Involv's customised webparts allow for a seamless experience around the intranet, for example, signing up to an event via a news story, and across other channels including Teams and Viva Engage.
Central digital space for all workplace tools
Another advantage of Involv's M365 integration is the ability to access all digital workplace tools, even third-party apps, via the intranet.
So, the intranet has become more than just a 'nice place to go', it is a business-first platform at the centre of the organisation, meaning staff can catch up with NatureScot news and information as part of their working day.
This helps create a stronger connection to the organisation and its goals but also saves staff time as all the tools they need to do their work are at their fingertips.
Enhanced features for 'slicker' functionality
NatureScot's previous intranet had offered them the functionality to suit their needs but since adopting Involv, this functionality has become much more efficient and effective.
For example, when the HR department is publishing its 'Starters and Movers' news, this used to involve simply typing in a static list of names. Whereas Involv allows the publisher to tag the employees so they can be easily contacted by their colleagues.
Another example of Involv's intuitive functionality is the Events feature. NatureScot had previously used the news feature to communicate events information to colleagues.
But with Involv's Events feature it is possible to customise events by adding different types of content, such as text, images, maps, videos and any other component, with the drag & drop editor. NatureScot staff can even add the event to their calendar automatically.
"Compared to our previous intranet, one thing that really stands out about Involv is the little enhancements. They make things quicker, easier and more effective. They make things slicker."

Martin Stubbs-Partridge
Internal Communications Officer, NatureScot
Customisation creates look and feel that's tied to nature
NatureScot's previous intranet had been 'flat', with lots of links and lacking visual appeal. This was something they were keen to put right with their new Involv Intranet.
Thanks to Involv's easy-to-use page builder and customisable templates, the NatureScot team have been able to realise their goal of creating very visual, nature-led content across the site.
The move away from more corporate imagery on the old intranet has really helped to strengthen the organisation's culture and sense of purpose, gaining positive feedback from staff.
So, what's the verdict?
Here's a final word from NatureScot's intranet project lead Martin Stubbs-Partridge…
"We chose Involv Intranet to be our software partner following a rigorous procurement process. Involv have been by our side all the way and have helped us deliver our vision for a simple, smart, and seamless user experience across our digital workplace."
Want an accessible, seamless user experience for your intranet?
Book a demo today and start your Involv Intranet journey.