The world's best ready-to-go intranet
Boosting communication
and unifying workforces.
Connect and engage all employees

Boost your company culture

Help everybody be more productive
Take a 3-minute tour of Involv.
We will soon be sending you some additional useful information. If you no longer wish to receive these e-mails, you can always unsubscribe.
Trusted by top organizations all over the world.
Involv is once again top-ranked in the
2022 buyers' guide to intranet products – worldwide! 🏆
You are using Microsoft 365 and are looking for an award-winning intranet?
Then you should check out Involv. This is why:
Boost communication
It is not distance that keeps people apart, but lack of communication. Involv makes it easy to reach your employees – wherever they are. Stop relying on inefficiënt one-way communication channels, start with an omnichannel, two-way and targeted communication. Involv is the perfect starting point for a productive workday.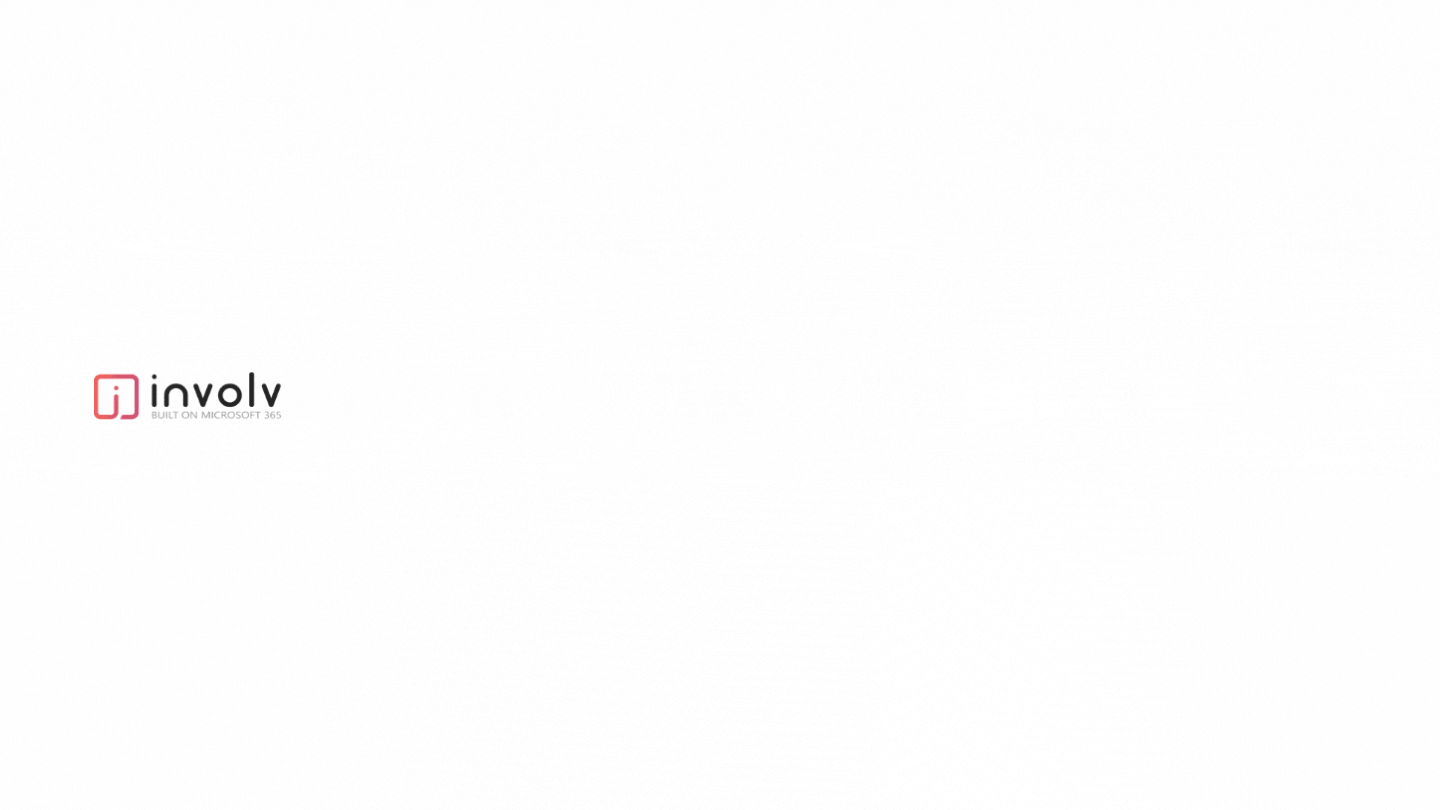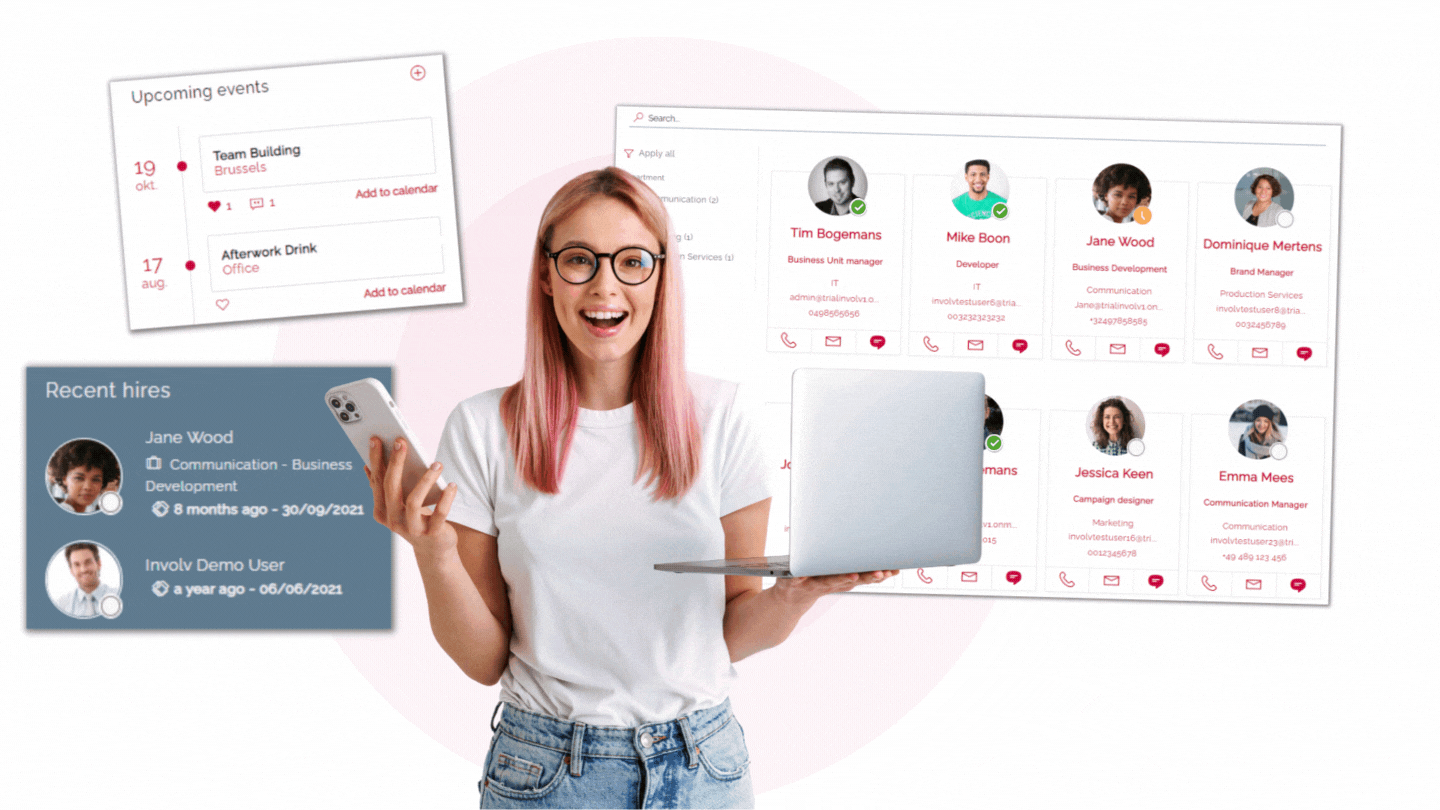 Unify your workforce; collaborate better
"Culture eats strategy for breakfast". Whether you work on it or not, company culture happens. Involv helps you unify your employees and make them passionate about your company's vision.
No matter where they are and what language they speak, your teams can connect, share knowledge and collaborate efficiently.
Centralize Knowledge & Documents
Information silos hurt your business. People lose time and get frustrated when they find different versions of the same file. And when people leave your organization, a lot of knowledge leaves with them. Involv makes SharePoint – the best document management tool in the world – even better. Centralize and secure all your documents and knowledge.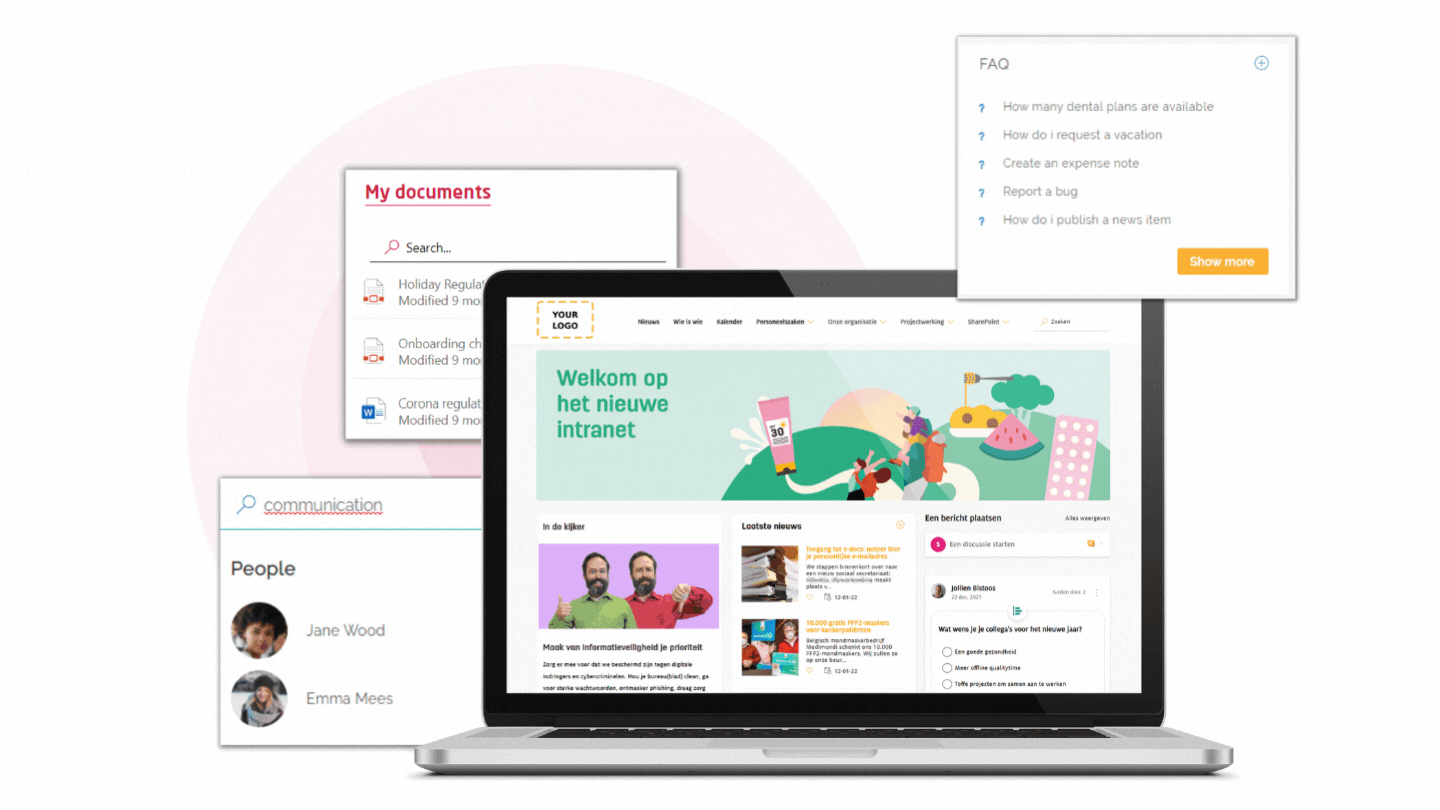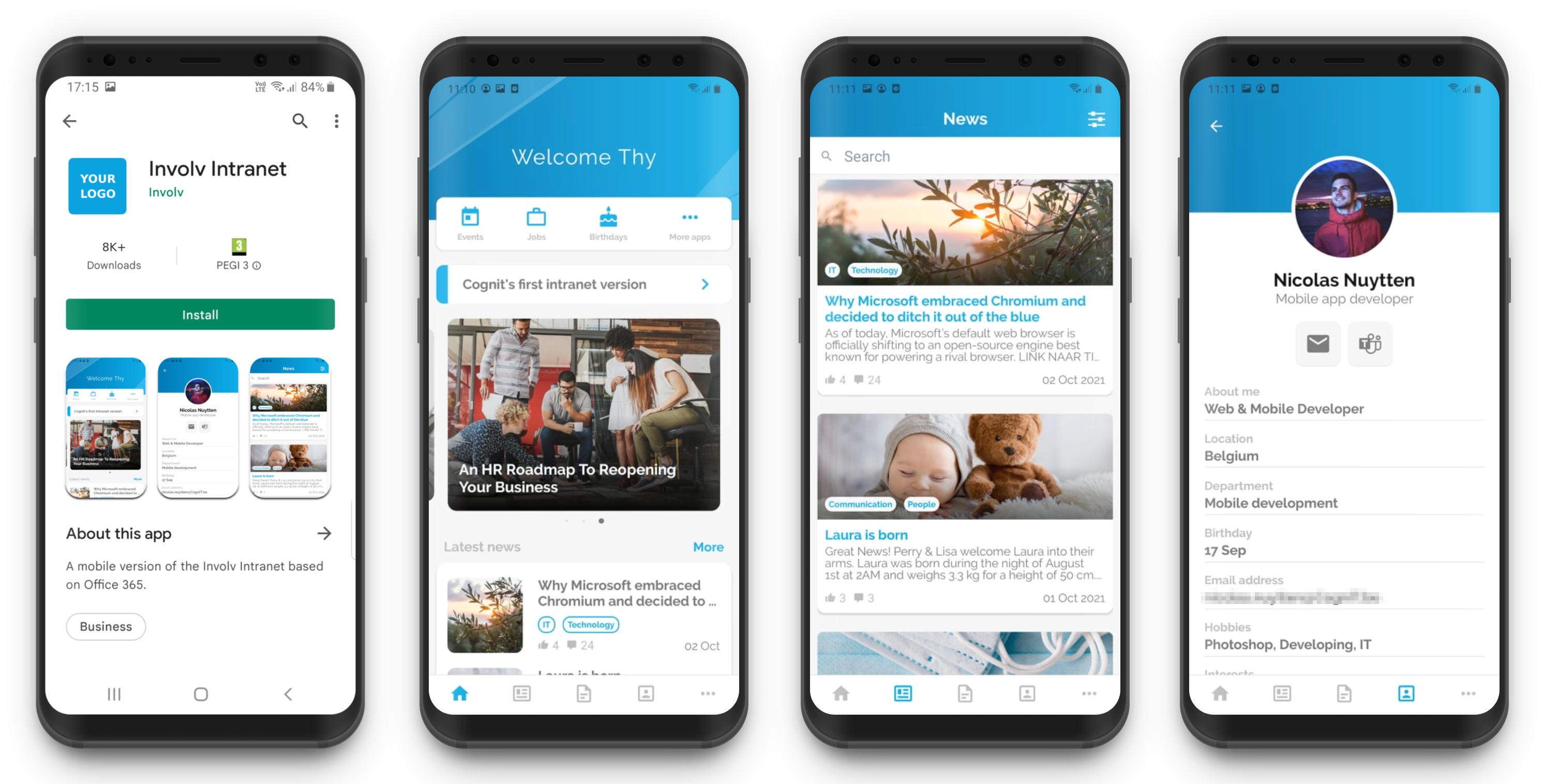 Your own company branded Mobile App
You can now connect, engage and communicate with everybody, wherever they are, thanks to the mobile app. Content creators can even create news and upload pictures on the go.
The mobile app for Android and iOS is fully brandable; it uses the colors you define in your intranet and you can even set your company logo as the app icon.
Let us guide you on your intranet journey
Why do people love Involv?
End-to-end solution

At Involv, we work on intranet projects each day. Our Intranet experts will guide you before, during and after the implementation of your intranet, for guaranteed success.

Evergreen solution

Involv is built on the Microsoft 365 framework. This means you will always benefit from Microsoft's latest innovations. We help you keep your content evergreen too, by providing you with extensive yet easy-to-use publishing features.
Best adoption rates

Involv not only looks great, it also feels great, with amazing, intuitive designs. These are customisable so they look exactly as you want them to.

Winner best choice 2022 award

ClearBox, an independent intranet consultancy agency from the UK, assessed 33 of the best intranet and employee experience platforms against their rigorous framework. Involv got excellent reviews and was selected the Best Choice 2022.
ready-to-use, endless flexibility

Involv is an accelerator; it comes ready-to-use so you can get your intranet up-and-running fast. But that does not mean you're limited; further enhancements and customizations to meet your company needs are always possible.
Involv helps solve challenges across all departments.
100+ Happy Customers Worldwide
The thing I like the most about Involv – Office 365 intranet is the speed of implementation. We got our intranet up and running in just a few weeks. If you do something similar from scratch, you end up with much longer lead times.

IT Director - Vasco Group

The great thing about the Involv intranet is the ease of use. It is a layer on top of SharePoint where we have not only a good Document Management System but also a good communication platform.

IT Support Officer - Plan International Belgium

Our old intranet became outdated and was no longer supported by Microsoft. So we chose to make a new intranet platform with Involv because it is built on top of the Microsoft 365 ecosystem. It's ready-to-go, but has the possibility to add extra apps and do customizations. A very client oriented and flexible solution.

System administrator - Omroep Brabant
Your plan for boosting communication and unifying your workforce
STEP 1. SCHEDULE YOUR DEMO

Get a demo and gain valuable insights in how the Involv intranet builds adoption

STEP 2. INTRANET SPECIALIST

One of our intranet specialists co-creates a rollout plan tailor made for your organization

STEP 3. LAUNCH YOUR INTRANET

Congratulations! Boost communications and unify your workforce with your Involv intranet

STEP 4. EVERGREEN INTRANET

We're only succesful when you are. That's why we guide and support you - even after the implementation.
Everyone deserves to be connected,
to be involved in their work.
Get everybody involved, today!
Still not sure?
If you've come this far down the page, that could mean several things …
You just like scrolling 🙂
You did not find the info you were looking for (do let us know which information you're missing!)
You're not convinced about the value that Involv can bring. And you know what? That's ok. We don't pretend Involv is the solution for every organization. But we do believe we need to talk if you recognize one of these problems;
The existing intranet is no longer up-to-date and a mess
Nobody cares about the existing intranet because it makes their day harder, not easier.
The internal company emails get buried under the more urgent ones and often forgotten
Publishing content on the intranet is too complicated and just damn frustrating
People don't know where to look for information because information is scattered all over
The existing intranet is not integrated with the Microsoft applications people use all the time
Involv Intranet makes communicating easy,
boosts culture and helps everybody be more productive.