After having invested a lot of time, budget, resources and effort in the intranet project, you launch it with high hopes and expectations. But the results are disappointing. Very few employees log in, only a handful of users actually use the intranet and some people don't even know of its existence. How could this happen? What was done wrongly?
Intranet projects often fail because of a lack of user adoption. How to prevent this from happening to your intranet? In this blog post, I will share my 10 top tips to boost intranet adoption.
1. Get them involved from the beginning
People love surprises, but not when it comes to the business tools they are using. Especially when your company hasn't owned an intranet before, people need more time to learn about it and how to use it. With any new platform/tool or a business change, it is important to keep everyone informed before implementing it and make them aware of the advantages it will bring them.
During the planning stage, it's necessary to ask people about the challenges, pains and problems in their job. Ask them how they think these issues could be fixed. This will give you valuable data to build a user-centric intranet. By getting everyone involved from the beginning, you make them feel respected and heard. As a result, they are more likely to understand the value of the intranet and will surely be interested in using it.
2. Have
an intuitive intranet design
Providing a great user experience should be the primary focus of your intranet design. In other words, everyone – regardless their tech skill levels – must be able to use it without any hassle. There are many best practices in building an intuitive intranet design. So, if you have little or no experience of UX and UI, consult a UX/UI designer or use a ready-to-go intranet solution like Involv. It packs all the most requested intranet features and has the right "look and feel" to deliver a great experience to your users.
3.
Take it mobile
– have an intranet app
Yes, an intranet app is essential to be able to reach the entire workforce. Look around you. Are all of your colleagues sitting in the office? Unlike the in-office team, mobile workers don't have regular access to a computer. However, almost everyone has their smartphone with them. If you want to reach your entire workforce, then have a mobile intranet app. It enables people who are always on the go to use the intranet on their mobile phone.

4.
Get the
leaders to set an example
Participation of the leaders helps to demonstrate the value of an intranet. Ensure that the management team buys into your intranet project and make them powerful influencers as people tend to follow their leaders. Make your intranet the main platform for the management team to communicate their vision and to empower the company culture.
5.
Keep it fresh
and engaging
Imagine if your Facebook feed showed only one new post a day, would you feel an urge to keep checking it every 10 minutes? Certainly not. It is the same with your intranet. The key here is to keep the content always fresh and up-to-date. To do this, you need an internal communication plan to constantly produce content that is engaging and relevant to users.
6.
Deliver
personalize
d
and relevant
content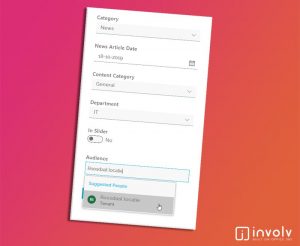 Some news must be known by everyone in the company. And there is also news that is relevant to people in a specific department. For example, updates in the corporate tax regulation are important for the finance team but they are completely irrelevant to the IT department. An intranet that is filled with irrelevant content is chaotic, noisy and distracting. It will create a negative impact on user experience.
So, make sure your intranet is able to deliver the right information to the right people. For example, with Involv, you can choose the target audience for your intranet content, allowing you to target news to a specific audience.
7.
Make it essential
We all want to save more time. If you provide your employees with a platform that helps them to work faster and be more productive, then surely, they will be interested in using it. Make your intranet a one-stop platform where once logged-in, users have access to everything they need to get work done. With a modern intranet platform like Involv, your employees will never miss out on the latest news and updates, they will easily search and find the right documents, share and co-edit files, connect with all external softwares and websites and communicate with colleagues in the blink of an eye.
8.
Provide training, how-to guidance
Although I am a coffee drinker, I never try to use the coffee machine in my office, simply because I don't know how to use it. A lack of guidance on how to use something is a major adoption killer.
I can't emphasize it enough; one generic training as part of the intranet launch process is not enough. It's important to customize the training for different groups of employees, based on their job type and skill level. Tip: Include an introduction to the intranet in the onboarding process for new employees.
Make sure your employees stay informed when an intranet update is coming with new features or changes. If needed, schedule an extra brief training session on how to get the most out of these new possibilities.
9.
Make it social
Liking, commenting, sharing, tagging, … Does your intranet have any social features? If not, you'll see less engagement with your content. Your intranet will be more fun and interesting when people can connect, engage and contribute using these social features they already know. As an extra advantage to you, it enables you to detect which content resonates best with your users.
10.
Make it better
Like any technology-based platform, your intranet can have bugs or technical issues. Make sure these are fixed in time to not harm the user experience. It's also essential to regularly ask feedback from your employees on what features can be improved, what they like and don't like about the intranet. This is valuable information that you can use to make the platform better and more useful to your end users.
At Involv, we offer customers a Software Assurance package which ensures their intranet is well maintained and regularly updated with new features and extra functionalities. Check the latest updates in our Involv roadmap here.
Conclusion:
The fact is, having an intranet – and even a great intranet – doesn't mean your employees will use it. Even though your intranet has many great features to help them work better, your employees already have their way of doing things. They have been doing it for a long time and created habits. The challenge now is to create new habits, which is not an easy task as we, human beings, are averse to change and prefer the habit zone.
Being aware of this will help you better understand the challenge. Don't just ask your users to learn new, unfamiliar ways of working. Learn how to create an intranet that provides users with new and more convenient ways to fulfill their existing needs and do a better job. By applying these 10 tips above, you can expect to have a high rate of intranet user adoption.
(Photo by Corinne Kutz on Unsplash)

Try it out today
01.
start your demo
Request your personal demo with our intranet expert and discuss how Involv can help you reach your organizational goals.
02.
enroll
Like what you see? Setup your ready-to-go digital workplace in less than 1 hour, without any technical knowledge.
03.
success
Employees will love what they see, as Involv integrates with all the tools they already know and use. Need more? Contact us!