We all need to connect with others. It is a fundamental human need that we need in order to thrive. The lack of social connections is even a greater detriment to health than smoking.
Therefore, it's crucial that organizations encourage social connections among employees and support them to build strong relationships at work.
By improving internal communication and collaboration, a social intranet has proven to be a great tool that helps you achieve this.
In this blog post, I'll share how you can use your social intranet to create a truly connected workforce.
But first of all, let's take a look at the 3 great benefits of strong social connections at work.
Why do we need strong social connections at work?
At the office, strong connections refer to good relationships with colleagues, the feeling of inclusiveness, belonging and being supported.
It's well proven that strong connections among employees are beneficial to both individuals and the organization:
Social connections drive engagement and productivity
There is a clear correlation between high quality connection and employee engagement. In other words, feeling good and connected at work make us more engaged, motivated and productive. Here are some findings from different surveys:
Social connections improve well-being and mental health
Decades of research prove the health benefits of strong social connections. People with strong connections are healthier because of these advantages:
It strengthens your immune system

It helps you recover from disease faster

It helps to lower levels of anxiety and depression.

It may even lengthen your life!
The opposite is also true. Low social interaction was reported to be similar to smoking 15 cigarettes a day and to being an alcoholic, to be more harmful than not exercising, and to be twice as harmful as obesity.
Social connections create strong teams
Recent research has found that in the highest performing teams, people focus on building strong social connections with one another. They really make efforts to strengthen the bonds with colleagues and create friendships.
One very simple way to form a tighter bond with your employees and colleagues is discussing non-work topics – family, hobbies, traveling, for example. By revealing common interests and showing your care, it allows us to connect in more genuine ways.
Acknowledgement from colleagues and leadership also makes your team members feel being valued and keeps them motivated. So make showing appreciation a part of your organizational culture if you want to build a truly connected workforce.
How a social intranet helps to increase social connections
Realizing the benefits I've mentioned above, organizations are looking for ways to encourage more social connections in the workplace. Providing employees with a social intranet proves to be an effective way to achieve this goal.
I'll go through some of the most-used features of a social intranet and explain how they help build a connected workforce.
Personalized newsfeed
Being kept in the loop of information makes people feel included. Social intranets tend to have a newsfeed on the homepage, making sure nobody is missing out on any news and updates. Moreover, like social media, social intranets allow employees to personalize their newsfeed to show content from the topics or categories that interest them the most.
Commenting, liking and @mentioning
Social intranets allow users to engage with the information by commenting, liking and @mentioning colleagues. This two-way communication helps to drive dialogue and conversations.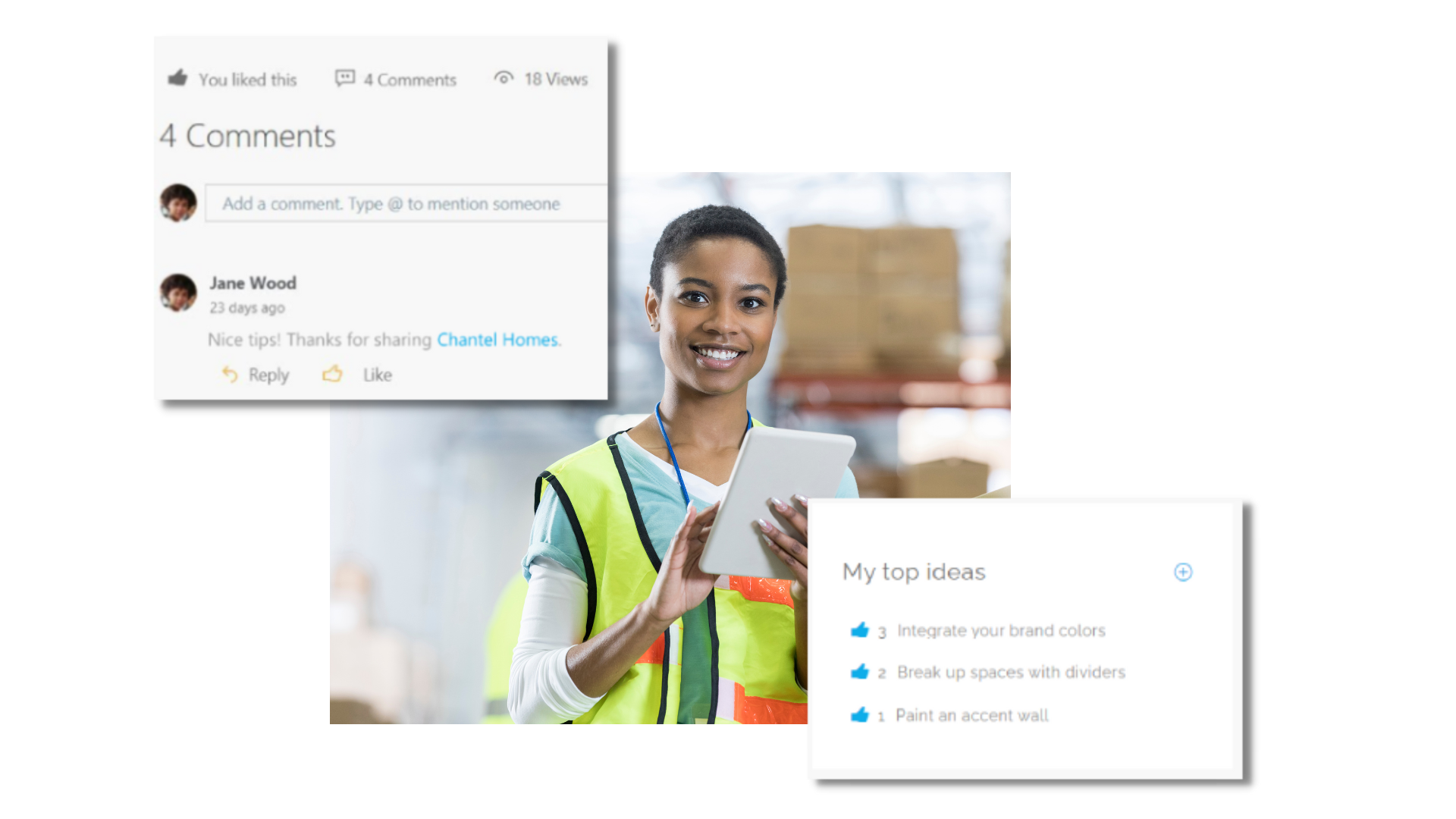 Employee directory and people profile
The employee directory is an essential intranet feature. It's where employees can quickly find and connect with their colleagues, regardless of location. Typically, the people profiles inside the social intranet include sections filled by employees, such as 'the about me' section, interests, skills, etc. This extra information can be very useful to get to know your colleagues better.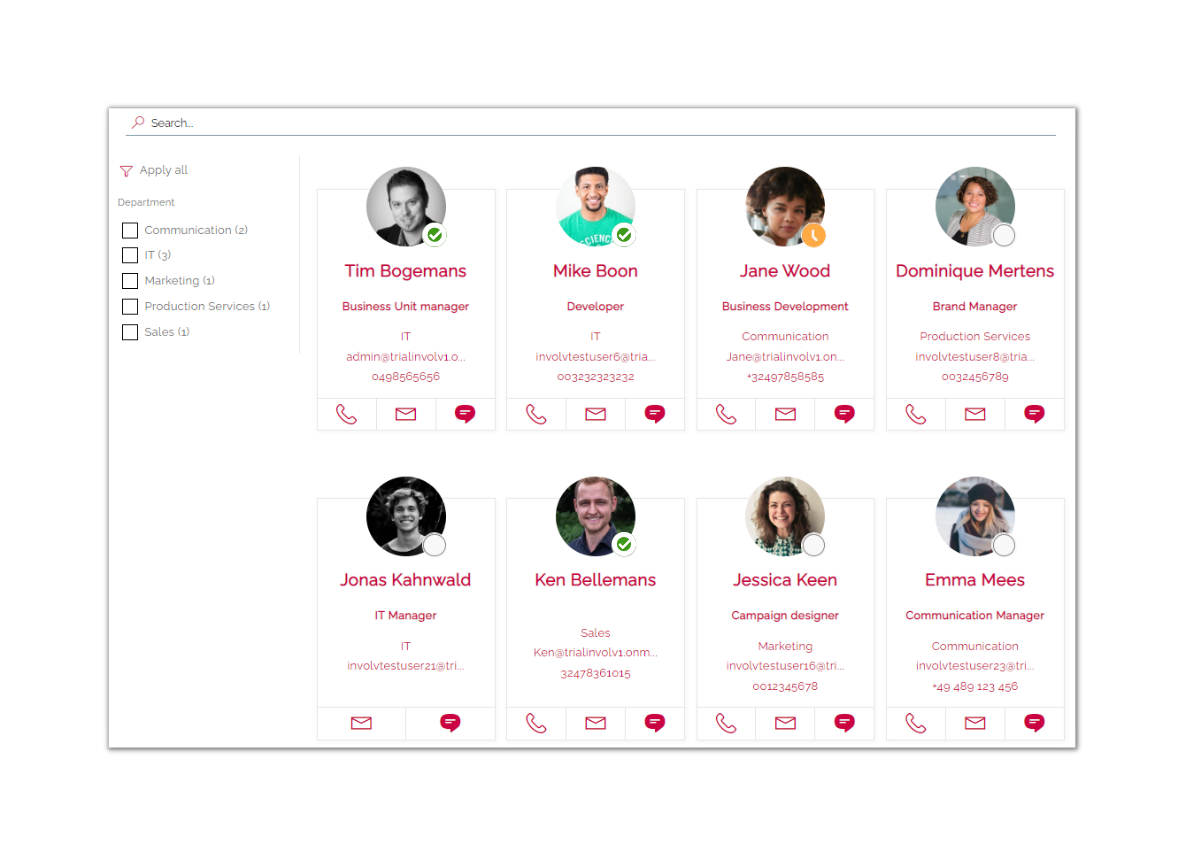 Birthdays, recent hires and work anniversaries
Some social intranets such as Involv can automatically import and display information from HR tools, such as birthdays, recent hires and work anniversaries. These are great conversation starters. Wish colleagues a happy birthday, welcome new people and acknowledge employees for their loyalty. Socialize and form bonds.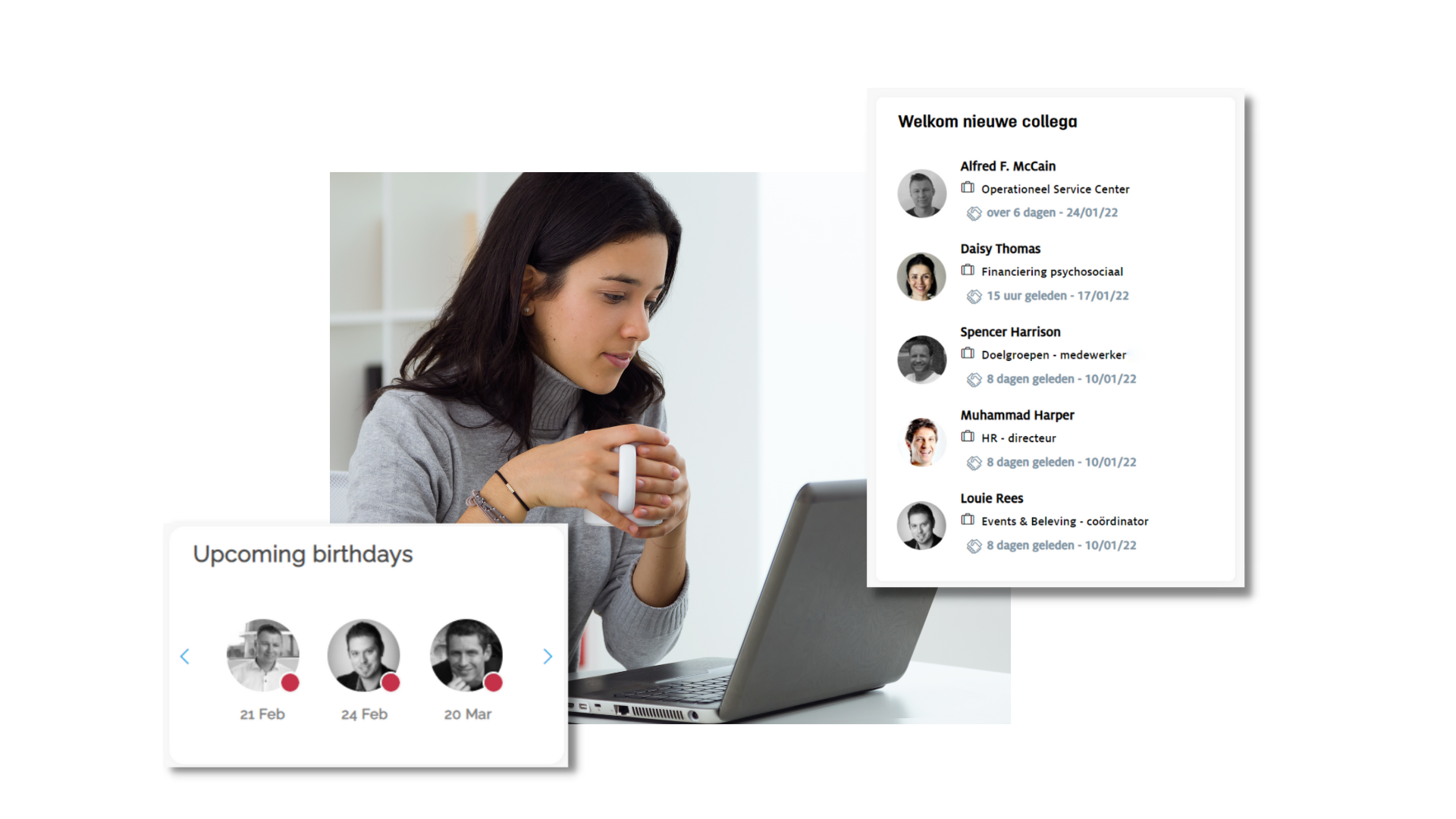 Polls and surveys
Another way to make employees feel connected is to make them feel heard and show that their opinions matter. Launching a poll or survey on the intranet is a great way to achieve this. The same goes for adding a feedback button to your articles and other content.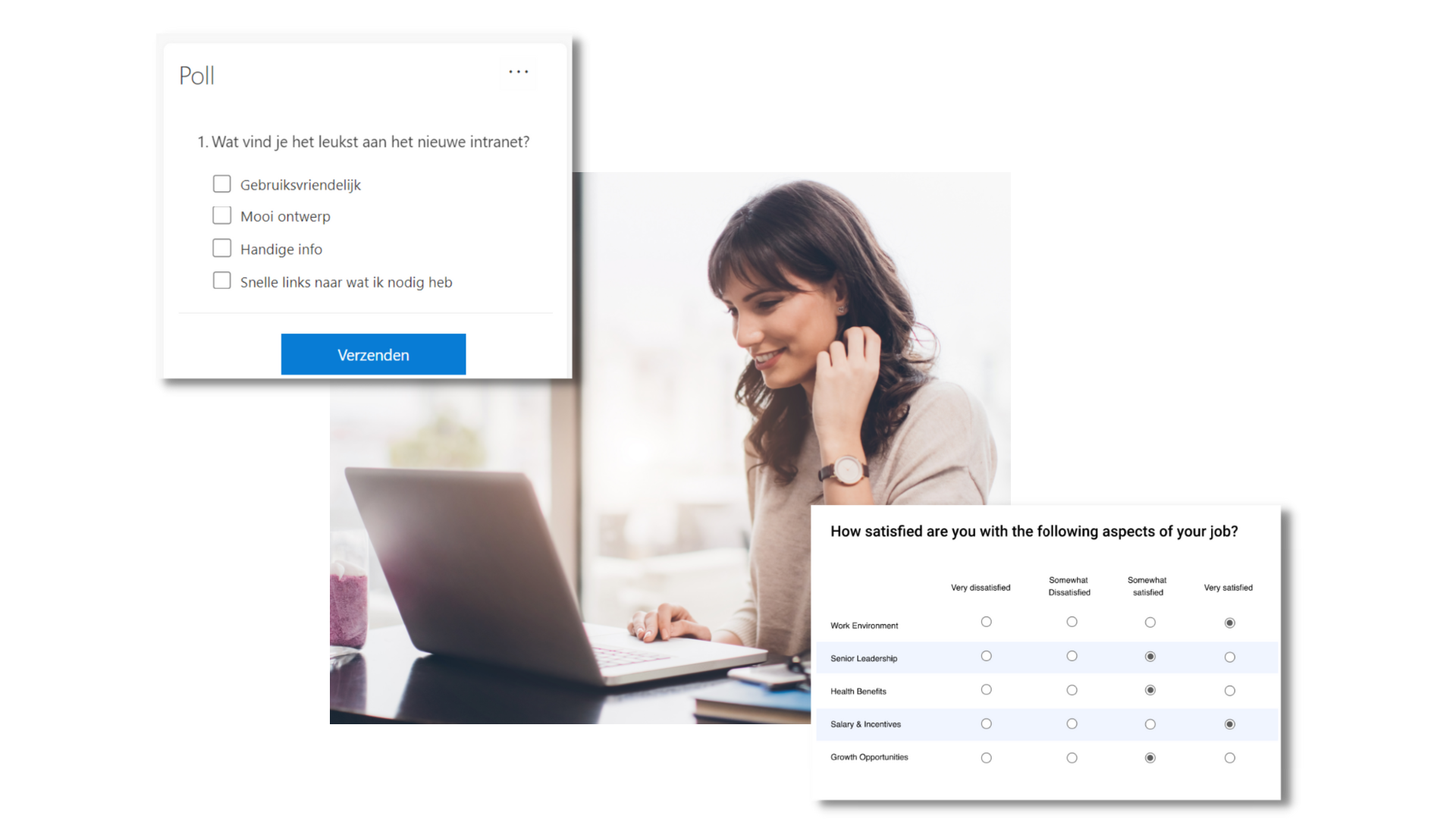 Blogging
The blogging tool makes it possible for employees to share knowledge, expertise and insights. Consider opening up publishing for more people so they too can contribute easier.
Communities and groups
It's great to collaborate with like-minded colleagues. Social intranets support creating dedicated spaces for groups and communities with common interests. These can be work-related or non work-related, with topics such as sports, travelling or other hobbies.
External social media feeds
To keep employees updated with marketing campaigns or communications with customers, many organizations feature external social feeds from platforms such as Twitter, Facebook and Instagram in their intranet.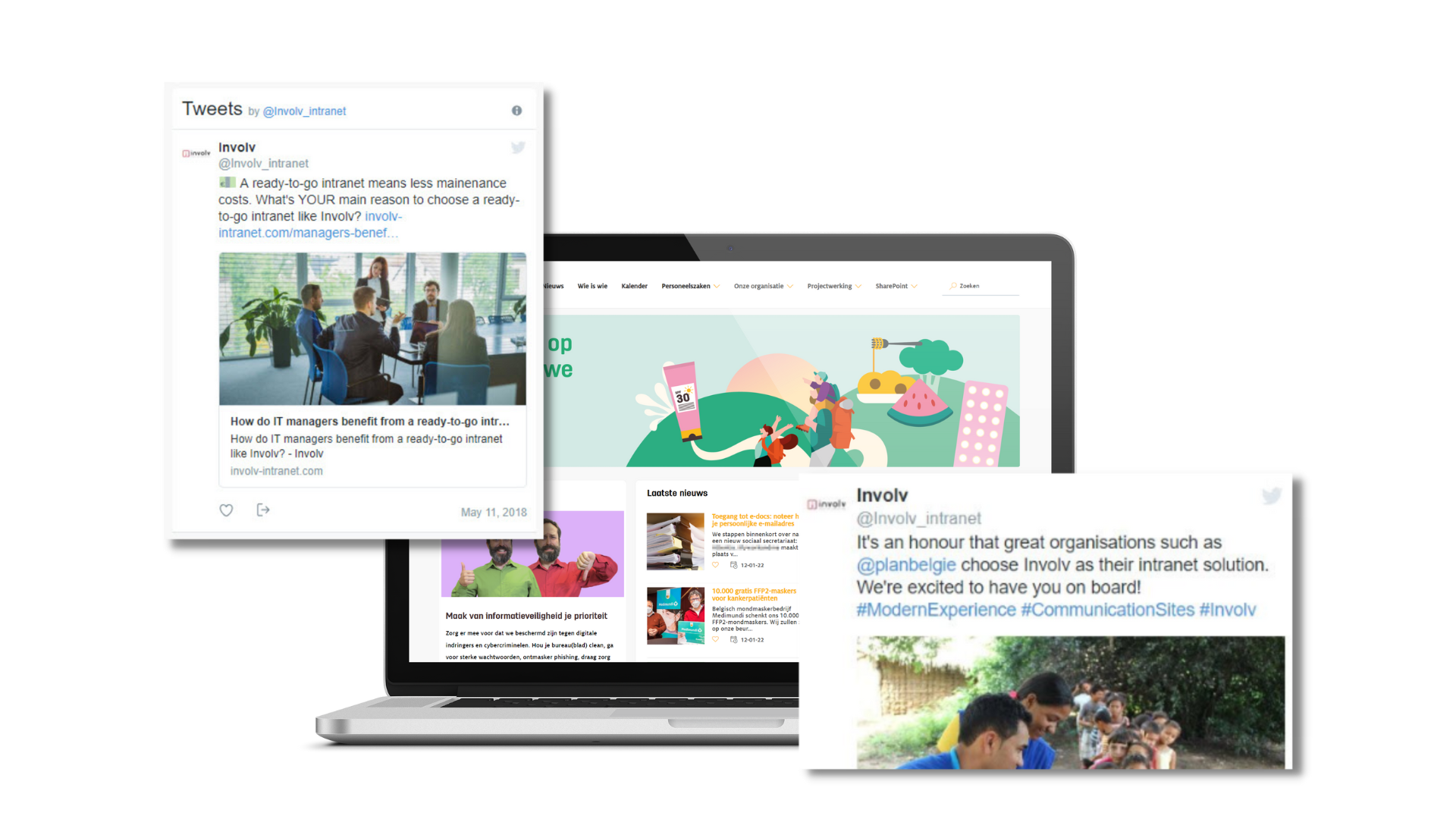 Mobile app
Keep your non-desk employees in the information loop. A mobile app enables everyone to connect and engage, no matter where they work. And if you want to give your users the power the create content themselves, they can even do so from within the mobile app.
Yammer and Teams integration
We all use social platforms in our private lives. Because we want to stay connected and informed about what's happening in the world. Yammer and Teams are the social tools for work. They allow coworkers to chat, share documents and collaborate all in one place. As Involv is built on the Microsoft 365 framework, these tools are natively part of the solution.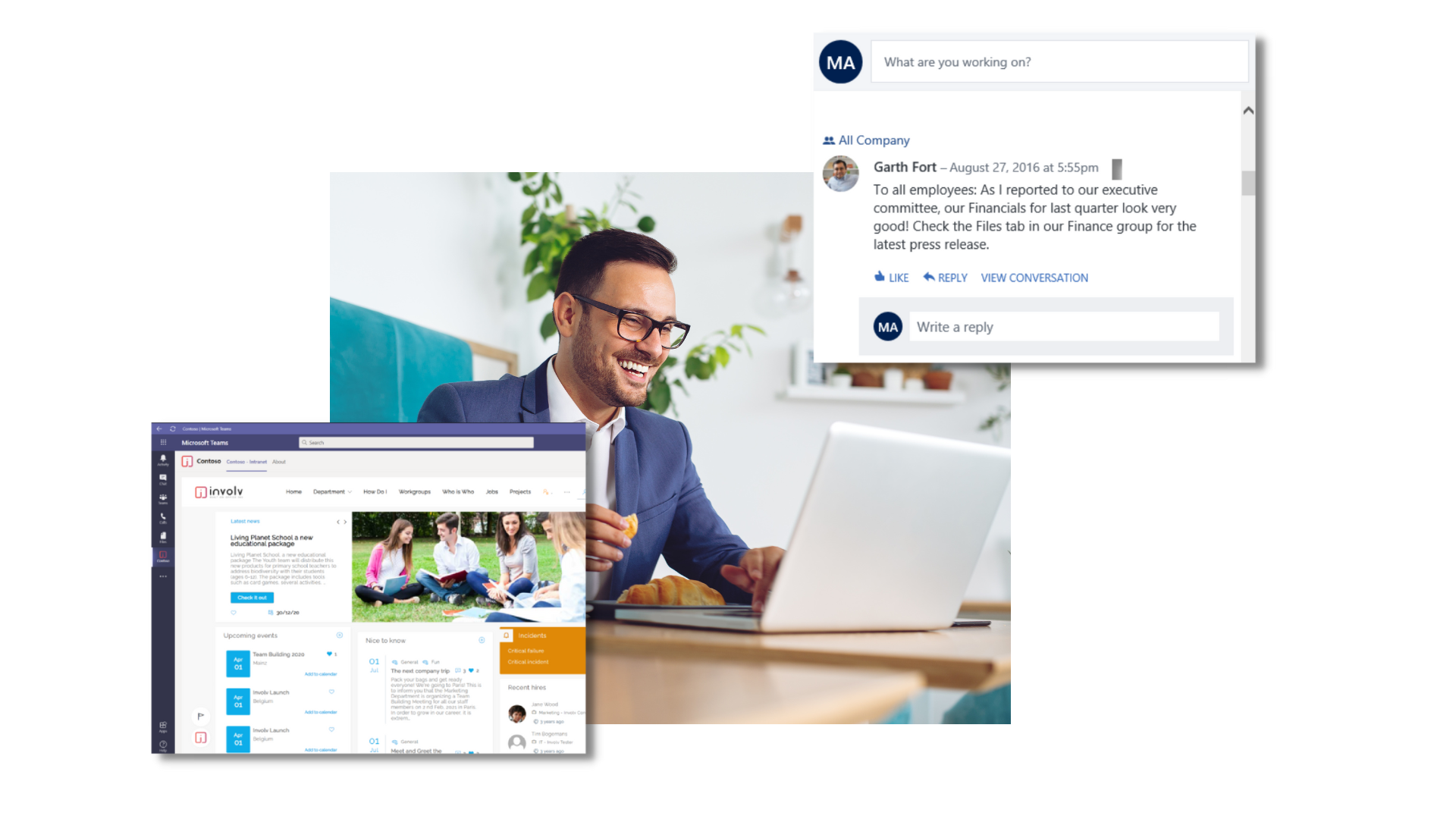 Connect people with Involv Intranet
We spend one third of our life at work. It's no surprise that we need good social connections with colleagues for our wellbeing.
Every organization therefore should aim to create a friendly and sociable work environment and build a truly connected workforce.
If you want to learn more about Involv intranet and how other organizations use Involv to create a happier workplace, feel free to get in touch!

Your Plan for Maximizing Employee Engagement
STEP 1. SCHEDULE YOUR DEMO

Get a demo and gain valuable insights in how the Involv intranet builds adoption.

STEP 2. CREATE A ROLLOUT PLAN

Together we co-create a rollout plan tailor made for your organization.

STEP 3. LAUNCH YOUR INTRANET

You're all set to launch your intranet and get everybody involved.

STEP 4. ACHIEVE HIGH EMPLOYEE ENGAGEMENT

Use your Involv intranet to communicate effectively and engage employees.