In many organizations across the world, employees are slowly returning to the offices after nearly two months of lockdown. Health and safety measures are in place, but employees still want to know how the organization adapts to this situation.
Do you have a communication strategy in place to ensure a positive employee experience?
In this blog post, you will find 7 best practices to keep your employees motivated and connected in the post-pandemic world.
Put the safety and well-being of employees first
The lockdown has passed but the threat of the virus is still there. Employees' health and safety should always be your priority at this time. In your communication, make sure everyone understands that you always put people first and that their health is still more important than anything.
For example, at Involv, employees who work in the office must strictly implement the hygiene measures. To ensure the social distance we work with max 3 people at the office. A calendar is created so everyone can register the day they want to go to the workplace.
By showing care and empathy to your employees you create trust and keep their morale up. Engage, motivate, and provide support. This is what employees expect from their employer at this time.
Develop a business continuity plan
What employees care most about right now is how their organization will return to business as usual. Will be there any changes? Help employees understand what's going on and prepare for what is coming.
This is why you want to develop a business continuity plan with specific actions and communicate it effectively to your employees. Also, make sure that these updates are delivered to all employees. By communicating everything honestly and transparently, you build trust and connection.
Listen actively and encourage two-way communication
Employees who feel their voice is heard are 4.6 times more likely to feel empowered to perform their best work (Forbes). If you want to improve employee experience, show them that you listen to their voice. This is especially necessary when employees have many concerns and worries as we are experiencing now with the impact and consequences of COVID 19.
By enabling employees to share their concerns and listening to them actively, you can better understand employees' negative emotions and how to help them.
Sending out employee surveys is one way to show that their voice is being heard. A more effective way is to provide the technology and tools that enable two-way communication in the workplace. With Involv intranet, for example, you can easily create a quick poll to consult employees' opinions.
It's also important that the leaders, HR, and internal communicators support the line managers in building this two-way communication culture. When employees feel able to freely express themselves at work, they are more likely to trust their employer and work more effectively.
Planning your intranet project
Planning a new intranet project? What steps to take to build an effective intranet? Download our free whitepaper.
Keep everyone informed and make sure important information reaches the entire workforce
Corona or not, it is always important to keep all employees informed. 85% of employees say they're most motivated when management offers regular updates on company news (Trade Press Service). Effective communication has proven to have a big impact on business success. Therefore, organizations need to put extra effort in improving employee communication. Use the right tools and channels to deliver the information in a timely and personal manner.
By now, employers need to understand that employees expect information to find them, not the other way around. It's worth looking for collaboration and communication platforms that let you reach and engage with the entire workforce. These tools need to be easy to use for everyone regardless of their tech skill.
With Involv intranet, for example, employers can send push notifications via the mobile app to their employees. This ensures important information never gets lost.
Make remote work more accessible
The sudden shift from office to home has a smaller impact on employee productivity than many people thought. Some employers have found that their employees can be just as productive away from the office. For that reason, many organizations are considering keeping the remote work option even after COVID 19.
The way we work has changed during these 2 months of staying at home. For example, meetings can be done via an online meeting platform or over the phone. Many people find it more productive to work at home than in the office because they are not interrupted by colleagues asking questions or stopping for a chat. Understand these new employee behaviors and embrace their new ways of working.
Don't force everyone to get back to the old ways of working. Instead, adopt a new strategy and provide employees with the right technologies and tools that support communication and collaboration in the future.
Prevent information overload
Receiving too much irrelevant information is as frustrating as having too little information. This is especially true when employees expect to get regular updates from their employee as they do now.
How to avoid information overload? Make sure that you deliver the right message to the right people at the right time. To increase relevancy and engagement, your communication needs to be personalized based on employees' functions, languages, and locations. Also, use the favourite channel of your target audience to make sure the message will be delivered effectively.
With Involv, the target audience feature enables you to send news to a specific group of employees based on their job and location. Our multilingual add-on lets you communicate with employees in their language.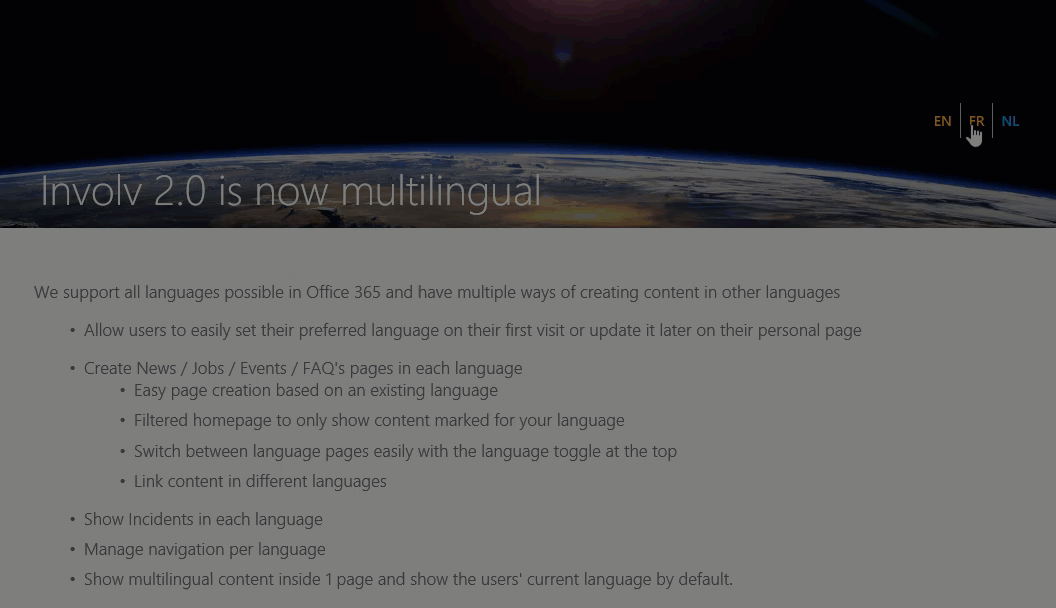 Support mobile communication
Choosing the right communication channels is key to effective communication. Employers have to ensure that employees can receive important information and updates on time.
Let's examine your current communication channels. How do your employees receive information? Are you sure that your communication reaches your entire workforce? Do you deliver your messages to their mobile devices?
A survey has found that an average person picks up their phone 55 times a day. So, if you're asking "what is the fastest and handiest way to stay connected with workers?", the answer is definitely: through their smartphones.
Therefore, it is worth looking for the most effective mobile communication platforms to use. A mobile app would give everyone easier and faster access to news and updates. Involv for example has a brandable mobile app that enables your employee to access the intranet on the go.
Conclusion
We understand that every business is unique, and each has a different approach to the situation depending on organization culture, leadership, and business conditions. However, many organizations have one thing in common in their strategy: they embrace and implement new ways of working and focus on an effective employee communication.
If you are looking for solutions to improve your team collaboration and communication, let's get in touch. Book a free 1 on 1 consultation with our collaboration expert team.
(Photo by Proxyclick on Unsplash)
Try it out today
01.
start your demo
Request your personal demo with our intranet expert and discuss how Involv can help you reach your organizational goals.
02.
enroll
Like what you see? Setup your ready-to-go digital workplace in less than 1 hour, without any technical knowledge.
03.
success
Employees will love what they see, as Involv integrates with all the tools they already know and use. Need more? Contact us!