Kingswood School began their Involv Intranet journey when an internal staff survey highlighted issues with their internal communications.
They needed an intranet that would help reduce reliance on email and facilitate a more targeted approach to their internal comms.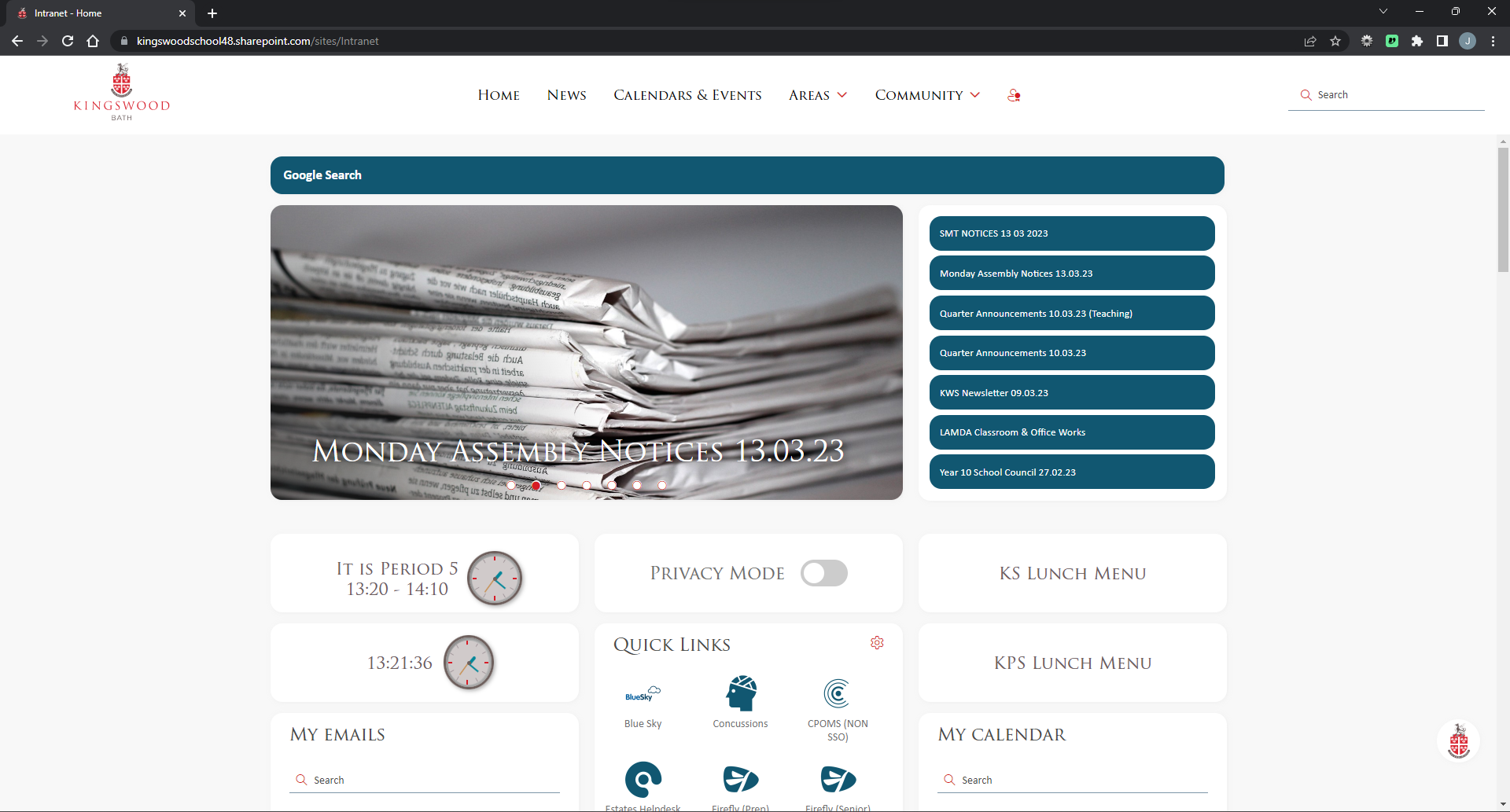 Background
Kingswood School is a large independent school in Bath with over 1,300 students enrolled ranging from nine months to 18 years.
The school continues to be successful and has grown over the years to its current size The school is set in over 130 acre, over multiple sites and employs over 400 support and academic staff.
As M365 users, the organisation was keen find an intranet solution that would work within the Microsoft ecosystem.
In addition, with the aim of keeping costs low, they favoured an out-of-the-box solution, avoiding costly custom development.
Challenges
An internal staff survey identified two main challenges relating to the organisation's internal communications.
Firstly, reliance on email was too great. Staff felt overwhelmed by the volume of emails they were receiving and unable to keep up with important news.
Secondly, communication was untargeted, with all staff receiving all emails, which added to the communication overload. Despite all working for the same school, the needs of staff are very different depending on their job role, department and location.
Although the school had an existing intranet, it was essentially a link farm for workplace tools with no functionality for collaboration or communication.
Solutions
Involv Intranet provides centralised space for targeted comms
Reducing reliance on email and targeting communications were the two key motivators for Kingswood School's intranet project.
With Involv they have been able to achieve both these objectives.
With Involv's news feature they are able to publish formal, targeted news stories so staff only see news that is relevant to them and their role within the organisation. The comment functionality also allows for two-way communication, should staff want to engage with news stories.
Using Yammer via their Community forums, more informal communications are possible, allowing staff to share recommendations and information, lost and found notices, as well as their own internal marketplace.
Versatile features, tailored to use case
As a highly customisable SharePoint intranet, Involv has enabled Kingswood to create a range of useful features, including the Period Clock.
As opposed to working to a standard time frame, like many Kingswood's school day is split into 7 periods. The Period Clock allows everyone, including non-academic staff, to work to this timetable.
Additionally, the New Starter feature helps staff stay informed about new employees in the school. This is linked to the Who Is Who feature, providing a useful customisable profile page for each staff member, including pronouns, site location, contact information and car badge (for parking).
Staff can also use the Privacy Mode setting to blur email and calendars. This is especially useful for academic staff when using whiteboards for teaching.
Customisable Quick Links
With both support and academic staff working across nursery, primary and secondary education, the range of apps used by Kingswood's employees is vast, which is why Involv's Quick Links feature has been so useful.
Rather than giving staff access to all these apps, the IT team is able to differentiate which apps are available to which staff members depending on their role. The tool is customisable so individual staff members can choose which apps they wish to see in their Quick Links.
The school has also licenced Involv for their students for the forthcoming student intranet based on the usefulness of this feature.
Quick links are really important for us. We've got an incredible number of apps and if you're a member of staff it would be easy to get overwhelmed. But with Involv, the apps you see are customisable, so you can only access those that are relevant to what you do and what your role is. It's such a unique tool and so useful for what we do.

Andrew Francomb
Director of IT, Kingswood School
Involv team support "a massive plus"
The support from the Involv team was instrumental in the successful launch of Kingswood's intranet.
The process began with internal focus groups to determine the needs of each department. The decision was then taken to start with support staff requirements, followed by academic staff, then the student intranet.
With project management support from Involv, tasks and deliverables were well communicated, resulting in meeting the three-month deadline for launch.
The project management support we received from Jonas and the rest of the Involv team was a massive plus. They guided us through the process incredibly well, leading to a really quick turnaround.
Andrew Francomb, Director of IT, Kingswood School

At Involv, we've been guiding our customers through successful intranet launches for 15 years, so you know you're in good hands.
So why not Schedule a Demo and find out more about Involv's award-winning SharePoint intranet solution?
At Involv, there's nothing we enjoy more than helping our clients achieve their intranet goals.