Hospital
H.-Hart Hospital Lier is a general hospital with regional appeal. It offers a wide range of specialized medical, medico-technical and outpatient services. It strives to provide advanced care and services under the motto "a heart for care". To this end, about a thousand people (doctors, nurses, cleaners, cooks, pharmacists and others) are committed every day.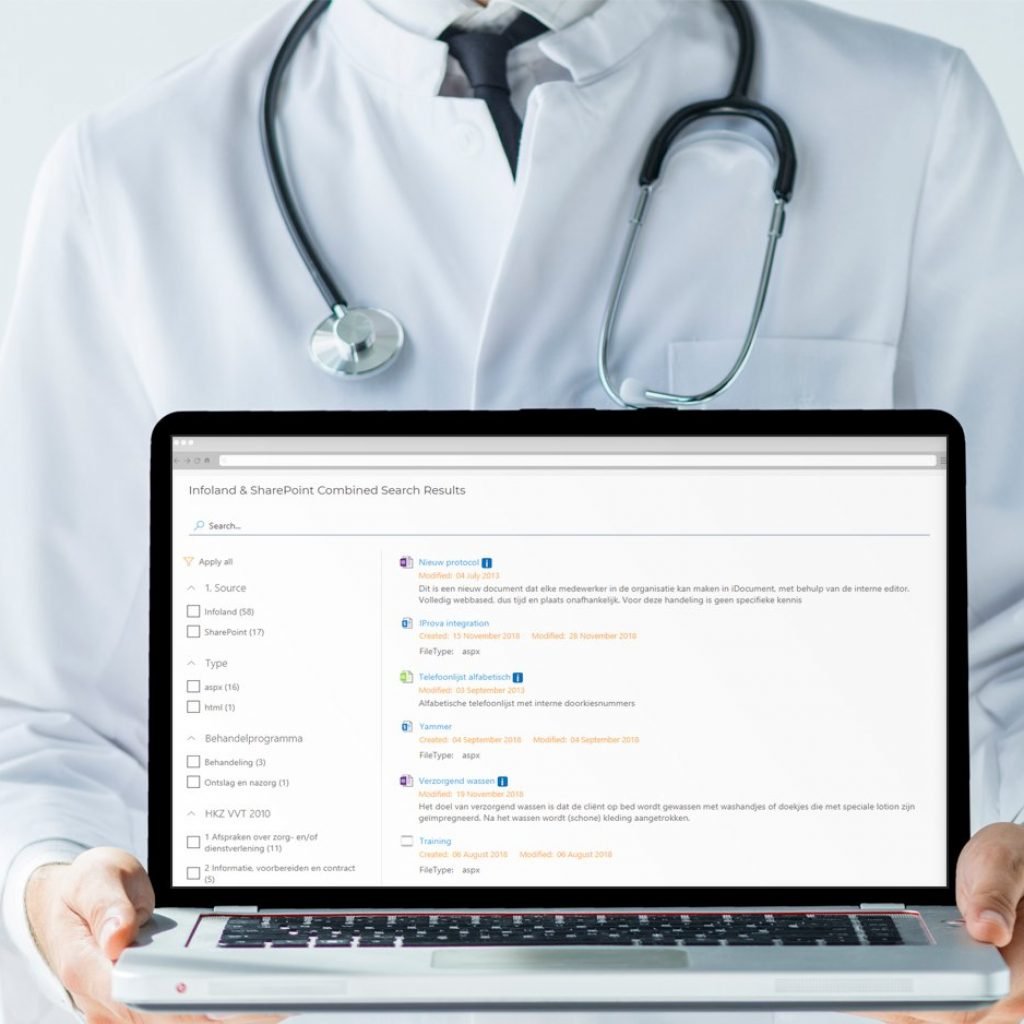 QUICK AND EASY DOCUMENTATION SEARCHING IN INFOLAND (FORMERLY IPROVA) AND SHAREPOINT ONLINE

Last year, the H.-Hartziekenhuis Lier made the move to a new intranet. High at the top of their list of requirements was that they were looking for a way to link Zenya (formerly iProva), their document management system, to the new intranet.
Together with Infoland, the Involv team turned this desire into reality. That is how H.-Hartziekenhuis Lier went from a very limited intranet (without an integrated search function) to a user-friendly platform with an overarching search function. This allows users to easily and quickly search for the right documentation, both within the intranet and Zenya. A premiere!
It is about time for a new intranet
"There was a clear demand from colleagues for a user-friendly platform. They wanted to be able to collaborate with each other, send out documents and share them in a simpler way," says Johan Engels, responsible for Zenya within H.-Hartziekenhuis Lier. "At that time, we didn't really have an intranet. At least none that we could actively work with," concurs Erik Van Tricht, team leader of System Administration within H.-Heart Hospital Lier.
The hospital has been working with Infoland's document management system for about 2 years now. "When we were rolling out the document management system, we found out that we needed an overarching search function between the intranet and Zenya. Our search results from the old intranet were very variable. One minute the system was searching only within Zenya, the next only within the intranet. That made searching confusing and, in a way, time-consuming."
AN INTRANET BASED ON SHAREPOINT ONLINE
"This is exactly why it was so important for us to have an intranet where we could link to Zenya," Erik says. "Searching for the right documentation should be done in a fast and, most importantly, easy way. Ideally from within the new intranet." Cognit, a Belgian IT software company specialized in SharePoint and Office 365, came up with the solution.
"After analyzing their request, we proposed an intranet based on SharePoint Online," said Tom Van Rousselt, Cognit's project manager. "We started with a general, more off-the-shelf form of intranet – Involv – and then tuned and configured it to the needs of H.-Hartziekenhuis Lier." "Our preference fell on Cognit's proposal," Erik explained.
"Not only do we like working with the other Microsoft Office programs, but we also knew that SharePoint Online would be more user-friendly in handling. Thankfully, Cognit not only knew how to build an intranet that met all of our needs, they also made the link between the Involv intranet and Zenya."
The intranet is now a big clear entrance hall.
BOTH SEARCH RESULTS IN INVOLV AND ZENYA
The result of this link is an overarching search function across Involv/SharePoint Online and Zenya. "Now when we look for something, the system automatically searches within Zenya and the intranet," Erik says. "We are not required to do a general search. If you know where the documents are, you can go directly to Zenya through a shortcut."
Johan is also enthusiastic about the new intranet
"The user-friendly aspect was very important to us. The Involv team and Infoland managed to set up a system that fits our needs perfectly. The intranet is now a big clear entrance hall where you enter and where you can immediately switch between different programs thanks to helpful shortcuts.
And due to the search function, you can find your documents in a user-friendly and fast way, without having to click through to Zenya.".
"The link we have now created between Zenya and Involv is tailored to the H.-Hartziekenhuis Lier. However, at Infoland's request, we also created a more generic, general link that they can offer to their customers," says Tom. "The fact that Infoland took the step of converting the link between Zenya and SharePoint Online to a kind of add-on package only shows that they are as enthusiastic about the end result as we are," says Erik.
"I really recommend it. Not only for companies within the healthcare industry, but also for any business or organization where large groups of people want to share information and documents with each other."
POSSIBLE ANOTHER COLLABORATION IN THE FUTURE
The hospital has been using the new intranet since February 2018 and the experience has been very positive. "We came from almost nothing and ended up with a very user-friendly platform, adapted to our needs," says Johan. "After the positive experiences with the overarching search function, we would like to extend this to some kind of overarching document management system between Zenya and Involv/SharePoint Online," says Erik. "But that's a possible next step. A new project that we're working through now."