Heel wat intranet verantwoordelijken worstelen met dezelfde vragen bij de opstart van hun intranet project.
Daarom hebben wij deze eenvoudige maar doeltreffende handleiding voor jou ontwikkeld.
Download de handleiding en kom te weten:
Wat er komt kijken bij het intranet project plan

Hoe de intranet doelstellingen en prioriteiten te identificeren

Hoe de juiste intranetfuncties te kiezen

Waarmee je rekening moet houden om het intranet te doen groeien

Welke vragen je kan stellen aan potentiële intranet leveranciers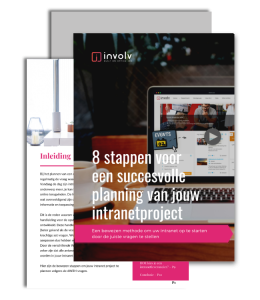 Involv offers a strong product at a very good price point. Feedback from customers is consistently positive and we feel they cover the essential elements of an intranet very well.
– ClearBox Consulting –