Keep your Intranet in your pocket with Involv Mobile App!
Today Involv is proud to launch our first ever Brandable Mobile App. Now you can take your Intranet everywhere and anywhere you go. This is a compact and easy-to-use version of the Involv Intranet, which enables you to stay connected to current news, important contents, emails and people from across your intranet while on the go. Let's dive into the details to know why you should install it immediately.
Keep everyone updated to the news
No one will never ever miss the news while on the go. Now you can deliver all the news right to everyone's smartphone. With the News tab, people can read, like and comment on your corporate news in just a few seconds!
Never miss a meeting again
The Meeting tab gives you a list of all your meetings with subjects, dates and times. Tap on a meeting, you can see more details such as attendees and the location. Furthermore, 3 options of quick replies are available in case you are going to be late, can't make it or want to reschedule the meeting.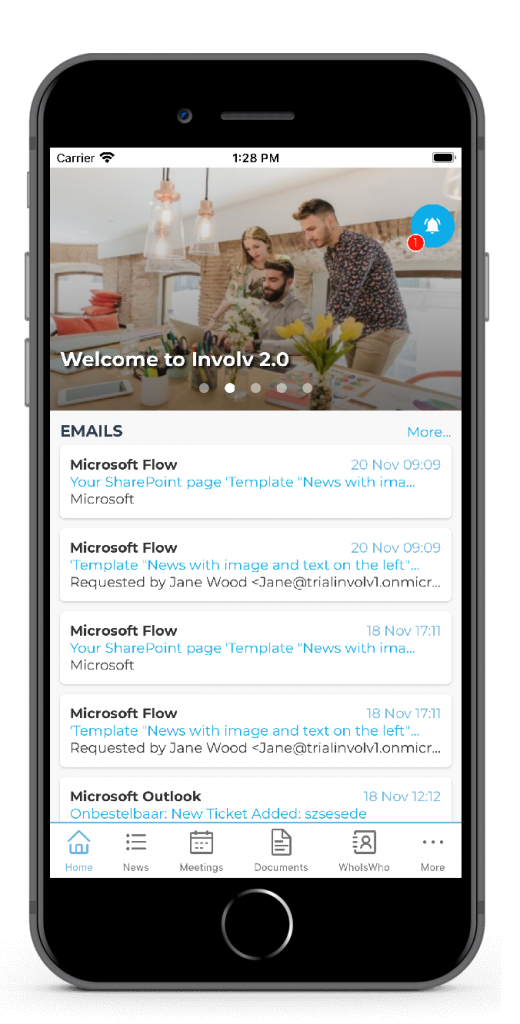 Easily manage your emails
Never let an email get lost again. No matter where you are, you can easily access all your emails. Tap on an email to read and reply immediately without any delay.
Stay connected with your colleagues
With the Who Is Who tab, everybody in your company is just a tap away. You can instantly find your colleagues by searching their name and connect with them through Teams, WhatsApp, SMS or call in just one touch.
Access all your documents in just second
The Documents tab takes you to all the documents that you are working on. You can also search and find any document easily and fast.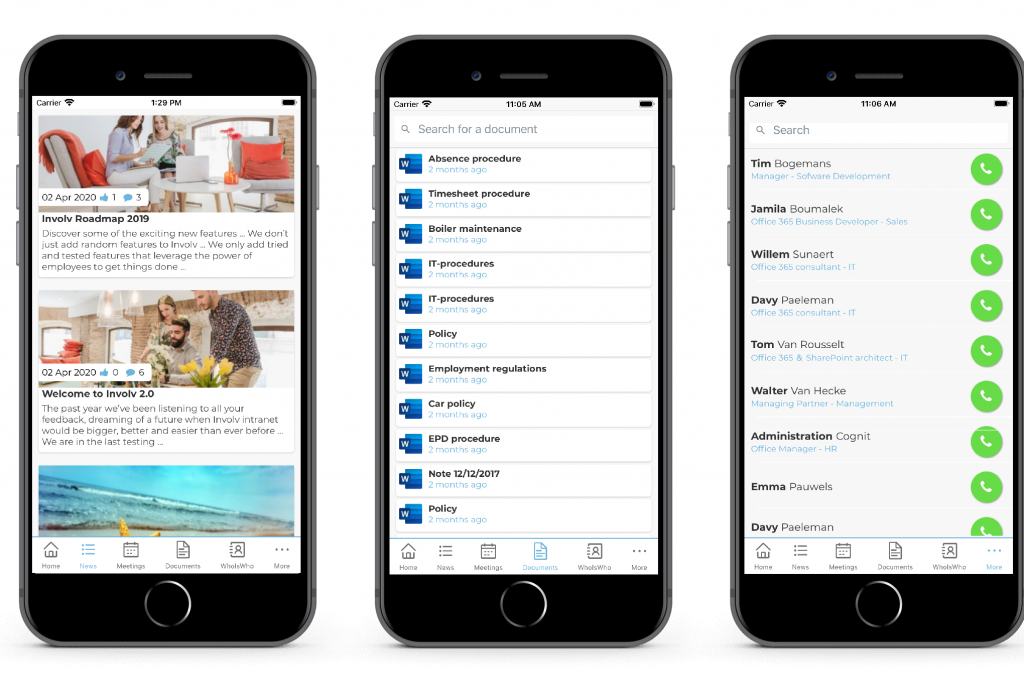 Getting people involved

wherever they are
Involv Mobile App is available for companies with a valid Software Assurance. To use the app, you just need to do 3 simple steps.
Step 1: Contact us to activate your access to the app
Step 2: Download the app here: Google Play / App Store
Step 3: Log in with your Office 365 credentials from your corporate, it will do all the connecting to your corporate automatically.
See Involv Mobile App in action
Request a free demo here with one of our experts.

We will show you how the Involv mobile app works and answer all your questions.